Veteran Memorial Software
---
Welcome Screen
---
The Welcome Screen will be the first thing your visitor will see and will have a ticker to display a random veteran every 15 seconds. The navigation for the memorial is along the bottom edge, standard features include: Service Anthems and Help Information.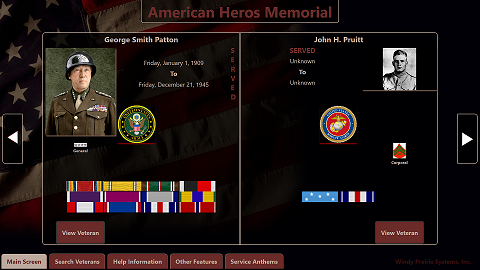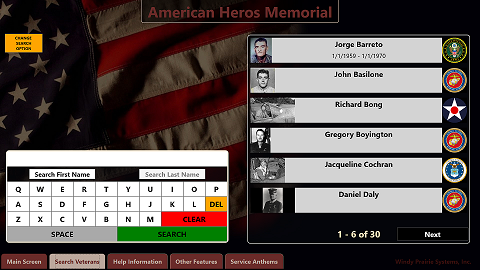 Search System
---
The search system allows your visitors to find someone in a multitude of ways, besides the standard name search:
Medal
Branch of Service
Wars Served In
Rank
The results will display with a thumbnail of the Veteran (if available) and their Branch of Service emblem.
Veteran Information Display
---
When a Veteran is selected, the system will display a breif overview of that Veteran for the user to see:
Name of the Veteran
Photo of the Veteran (if available)
Which service they served in and rank attained
When and how long they served
Display of ribbons as they would appear on the rack
Short biography of the Veteran