Cemetery Directory Software
---
Welcome Screen
---
When a visitor begins a search, the first screen that shows should feature something unique about your cemetery. This could be a photo of the main entrance, statuary, memorials, cemetery structures or historical images of the community. An audio guide will then talk the person through out the search process.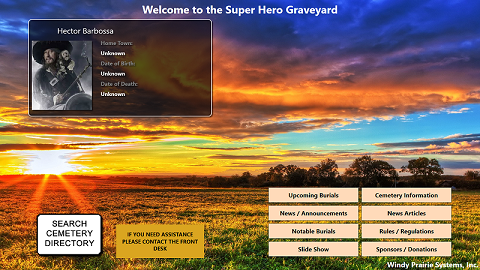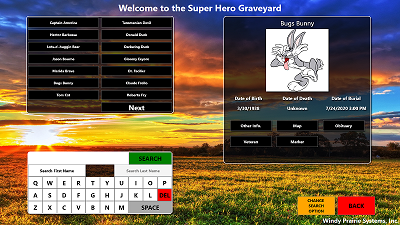 Search System
---
The search system allows your visitors to find someone in a multitude of ways, besides the standard name search:
Medal
Branch of Service
Wars Served In
Rank
The results will display with a thumbnail of the Veteran (if available) and their Branch of Service emblem.
Veteran Information Display
---
When a Veteran is selected, the system will display a breif overview of that Veteran for the user to see:
Photo of the Veteran (if available)
Which service they served in and rank attained
When and how long they served
Display of ribbons as they would appear on the rack
Short biography of the Veteran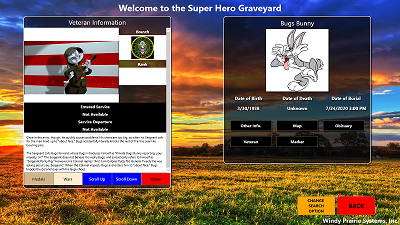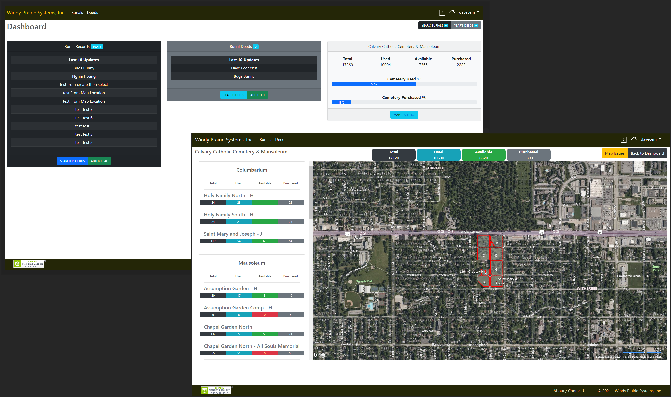 Cemetery Management System
---
Our Cemetery Management System is designed to assist you in your everyday needs of a cemetery. Get fast details about your cemetery and what needs to be done. Also keeps your directory up-to-date on a regular basis.